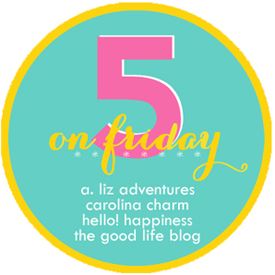 I keep seeing Five on Friday posts on
Happily Ever Parker's
blog and had no idea what it was. I started doing some blog stalking and found out it's a great way to meet other bloggers. So here's my first Five on Friday Post
1. Eggs in a Basket
I either eat cereal or eggs for breakfast everyday and this is my favorite way to eat them. I first saw the eggs in a basket made in the movie V for Vendetta. I know it's so random that I even noticed Natalie Portman making this dish in the movie. It just looked so yummy in the movie I knew I had to find out what this delicious egg dish was. What's even better is it's so easy to make. Cut out a hole in a piece of bread and crack open your egg into the hole. Turn over once to cook the other side of the bread and you're done! To me it goes together like bread and butter. It's just yummy and buttery!
2. 6 month Wedding Anniversary
The 15th marked Theo and my 6th month wedding anniversary. I can't believe it's already been 6 months! It's been a great 6 months and I couldn't imagine myself spending it with anyone else. Although we had dated 7 years prior to getting married, transitioning from dating to marriage was a bit of a change. Our life doesn't consist of going out to nice dinners and seeing movies all the time. Now we have to pay bills together, raise our dogger together, maintain our house, and try to look past each others annoying quirks. We truly have grown up together and I think that's what made our relationship stronger.
So Happy 6th Month Anniversary to my hubby!
I had always heard great things about Shiseido products but never really looked into buying anything. I was at TJ Maxx a few weeks ago and spotted this Anti-Shine lotion. Considering how humid Charleston's been lately I needed something to soak up all the oils hanging out on my face. This is more like a toner than anything. It has some sort of powder in it so you have to shake up the bottle really well before applying. It also has salicylic acid in it to help prevent breakouts. I have pretty oily skin normally but with this lotion I've noticed a significant reduction with my oily skin and I haven't had a new breakout either. It usually costs $25 but I found it for $15 at TJ Maxx.
4. My Momma
Now that I'm married I don't see my mom too often but we do talk on the phone at least every other day. She's my best friend, besides Theo, and also my twin. My mom and I look so much a like it's ridiculous. We get asked if we're sisters all the time. I know people ask more to give her a compliment but she really could be my 28 year older sister. We're going to lunch and going shopping on Saturday and I'm actually really excited. I love spending time with my mom and cherish our time together.
Theo and I love to make homemade pizzas and put whatever toppings on it we like. We buy the pre made pizza dough from Publix and let it out sit out in room temperature for about 30min or so. Then we roll it out with a rolling pin till it's about 10 inches or so in diameter and about a quarter of an inch thick.
We cover it with pizza sauce
Sprinkle on some spices like Italian seasoning and Cavender's Greek Seasoning
Top it with whatever pizza toppings you like. For this pizza we had 3 types of cheese, cheddar, parmesan, and mozzarella (we only had a small amount of each cheese so we decided to use them all), sausage, cut up spinach, sun dried tomatoes, and artichokes on my side only.
Sprinkle some more cheese on top because you can never have enough cheese on a pizza
Then stick it in a 375 degree oven and let it bake for 18-25 minutes. Depending on what your instructions say on the dough. We had it on tin foil for half the time then took it off the tin foil and let it bake on the rack for the rest of the time.
Then you cut it in slices, serve it on a plate and wash it down with an ice cold beer. You know beer and pizza go together like peas and carrots. We usually drink a better beer than bud light but it's all we had and it did the job.
Bon Appetit!
What kind of toppings do you like on pizza?