Wearing black and white always looks classy and chic. If you're at a loss of what to wear or just don't feel like dressing up, you can always put on a pair of black pants, a white blouse, and a pop of color with a statement necklace or shoes.
Looking through my closet it's pretty obvious my favorite color to buy is white. I just don't own a ton of black but I really want that to change. I've always been a "brown girl" meaning I wear a ton of brown but brown is usually more of a casual color where black is considered dressy.
I saw this picture of Whitney Port's arch nemesis Olivia Palermo and absolutely loved her outfit. I follow Olivia on Instagram and let me tell you she has impeccable style. I realize she has a stylist to dress her everyday but I'm sure she has a ton of input into what she wears. She's very classy with a bit of trendy.
I love
how she paired black and white with red velvet shoes. This is a perfect outfit to wear out on the town or take the jacket off and wear it to lunch or shopping. It would be super cute with some red heels too. I've been dying for some black leather shorts and she wears them all the time. They're great for all seasons too. Wear them with sandals in the spring and summer and black tights in the fall and winter.
I put my own spin on it and did a Look For Less
Lauren Ralph Lauren

Ruffled Blouse

, $165 / Forever 21

Striped Jacket

$28/ Topshop

Vegan Leather Shorts

$60 / ASOS

ballet flat

, $39 / Banana Republic

black

handbag

$80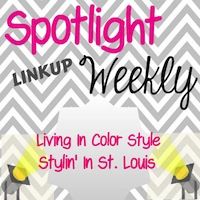 -------------------------------------------------------------------------------------
Charlotte

nominated me for the Liebster Award! Thank you Charlotte! It's actually my second time getting the award so instead of boring everyone with random facts about me again I'm just going to answer the questions she made for me. Hope that's ok Charlotte!
1. What is the most important thing you want readers to take away from your blog?
That you don't have to pay full price for fabulous. Yes, I copied that from the Marshall's commercial but it's true. I love designer clothes just like the next girl but I rarely ever pay full price. I shop at TJ Maxx and Marshall's weekly, I shop the Saks outlet often and search eBay daily. Whenever I see an expensive designer piece I really want I always check out eBay to see if I can get it for much less, and I usually do!
2. If you got a tattoo what you would you get where would you get it?
Back in the day I used to say I would get a small heart or something on my hip bone but honestly tattoos are not me.
3. Favorite song of all time?
This a tough one because I love so many songs! But the one song I always request in a bar is "Don't Stop Believin" by Journey. Everyone and their mother knows all the words to it and it's such a feel good song.
4. If you could go back to any time period what would it be?
The 20's have always seemed really fascinating to me. Especially after watching The Great Gatsby and Midnight in Paris. It was such a pretty time period. And the clothes they wore were to die for!
5. What is your guiltiest pleasure?
Anything on Bravo. I love Real Housewives, The Rachel Zoe Project is my favorite (side note: The Rachel Zoe Project has been cancelled! I die, literally!) And I love Bethenny Frankel, I own all her shows on DVD, all her books and cookbooks, and her workout DVDs. Obesessed much? Theo gives me so much hell for watching Bravo all the time, he says it's making me stupid, but I don't care, it's my escape!
6. What is your favorite celebrity couple?
I love Gwyneth Paltrow and Chris Martin. I love how they have such a beautiful family, have been together for many years, and manage to keep their relationship out of the spotlight.
7. What crazy Crayola Crayon best describes you?
I just had to google all the different colors, there's 120 by the way! Blue is my favorite color so I went to that section first and found one called "Wild Blue Yonder." It's a pretty blue/grey color and I've always been a dreamer with a big imagination so the phrase "into the wild blue yonder" kind of fits me.
8. If you could choose to live in any other country other than your own, where would you choose?
Hands down, Europe. I'm not picky either. The UK would be ideal since they all speak English but I have family in Norway I'd love to visit and Paris seems like heaven to me. So give me a one way ticket to Europe and I'll be happy!
9. What is your favorite holiday?
Christmas. Since I was a little girl I've always gotten so excited about Christmas. I love the season, all the corny ABC Family movies, and the Christmas music on the radio that I start listening to Thanksgiving day. It's just a magical time. December has been always been a great month for me. I met Theo in December, graduated nursing school in December, got engaged in December and got married 10 days before Christmas. I can't wait to start decorating already!
10. If you had an entourage with 3 celebrities would who they be?
Gwyneth Paltrow because then maybe I'd finally start doing that Tracy Anderson Method DVD, Giada De Laurentis so she could teach me her Italian cooking skills, and Miranda Kerr so I could raid her closet!
11. What is one non-technological item that you could NOT live without?
Clothes? I guess that counts right? I mean I think I can speak for everyone and say clothes are something we pretty much can't live without. And there's definitely some people out there who look better with clothes ON then OFF!