Sorry for the late blog post today. I woke up last night in the middle of the night feeling so sick I had a hard time going back to sleep and then woke up today still feeling sick. I worked 4 shifts this week and last week so maybe I've just burned the candle at both ends, or however the saying goes.
Today I'm linking up with one of my favorite blogs

Beauty and the Greek

, for
"November Favorite Things!"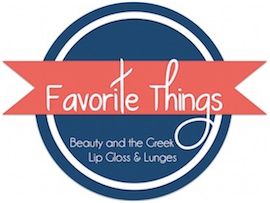 ONE.
I first have to give my little angel major props for wearing her bumble bee costume all night! She looked so cute in it and everyone loved her when we went walking around the neighborhood. Every other dog I've ever owned always hated wearing costumes but for some reason Pixie didn't mind it! She was even ok with wearing the antennas!
TWO.
My Mom called me the other night and asked if Theo and I would want to go to the Fair with she and my step dad next weekend. I, never to pass up on fun fall activities, said "YES!" I'm so excited because I haven't been in years and I know the fair here kind of sucks and after what happened at the North Carolina fair I won't be riding any rides but I just love the atmosphere and what's fall without the F
air?!
THREE.
Fellow blondes I have found us the best dry shampoo! Maybe I'm late in the game with this stuff but holy moly it is fantastic! My friend had always talked about how great

Batiste Dry Shampoo with Hint of Color

was and on our last TJ Maxx trip we both picked up a bottle. I'm sure they sell it elsewhere but that's the only place she's seen it. I've used dry shampoos in the past and have liked them but they tend to leave a nasty residue in my hair. Batiste left no residue which was awesome but the best part is it hides your roots! It sprays as a yellow color which at first kind of scared me but then blended in perfectly with my hair color and even looked like I had just had my hair highlighted! I've always been a daily hair washer but with this stuff I'm able to go a day without washing my hair. Best stuff ever! They do carry it in a brown color for the dark hair girls too!
FOUR.
I took a bath yesterday for the first time in months and it was so relaxing and just what I needed. Working nights and sleeping during the day really wears on you and the sleep you get during the day is nothing compared to a good nights sleep. With life moving at full speed and always feeling like I'm rushing to get somewhere it's nice to unwind every once in a while. Baths are definitely going to start being a weekly thing!
FIVE.
I've been drinking a lot more green smoothies lately and I find that I'm starting to actually crave them. I always notice my skin looks better when I drink them, mainly from the flax seed, plus they taste great and make you feel good. My recipe is a handful of organic spinach, a tablespoon or 2 of ground organic flax seed, a handful of mixed frozen organic berries, a couple of squirts of honey to give it some sweetness and either add in OJ or almond milk for a liquid. SO good!
SIX.
As you guys know

OctNOBer

just ended and NOvember is just beginning, UGH! It's really going to pay off in the long run but it hasn't been easy. I'm not going to pretend I'm perfect either. I went to Target yesterday and found a 3.1 Phillip Lim for Target dress I had been eyeing on major sale.
It was the only one and in my size, meant to be, right?! Well I bought it and feel pretty guilty about it but I've decided it was my small treat to myself for getting through OctNOber and the starting of NOvember. It's truly been the only clothing item I've bought all October. It's also on sale online and if you have the Target red card it's free shipping too! The long sleeves and the color of the dress make it perfect for fall. I can't wait to wear it!
SEVEN.
I can't believe I haven't talked about this lip stain before. My co worker sells Mary Kay and is always bringing in samples for us to try. This lip stain is a new color for fall and is supposed to be a longer wear. I bought a tube of it because I love the color and was curious to see how long of a wear it actually is. The color is called Mauve but it's more of a pale pink color which I love. The staying power is great. It really does leave a "stain" on your lips for a lot longer after the gloss part of it wears off. I've always been a true Dior Addict Lip Glow user but let's be honest, it isn't cheap and this stuff is a great color too and the price isn't bad either. It comes in a dark berry color too which is really pretty for darker skin tones.
EIGHT.
My last and most favorite thing in November is Thanksgiving! Thanksgiving is second from Christmas as my favorite Holiday. I love the food and the family time together. It's not too often I see my whole family and I better like it because Thanksgiving is the kick start of seeing them a lot in the next few months! We're heading to Atlanta this year to spend Thanksgiving with my in laws and their kids which is always a fun time. Theo and I are in charge of the stuffing so this

traditional recipe

and this

not so traditional one

are at the top of my list to make. All

Pioneer Woman

of course. I made a few of her recipes last Thanksgiving and they were all so delicious and not too hard to make. If you're ever in a bind of what to make for a party or just dinner one night, go to Pioneer Woman's blog and find something and you will not be disappointed!