Linking up with Natalie and Annie again for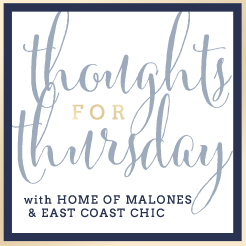 Ok fellow bloggers, I need your help. When do you all find the time to write a post, comment on other blogs, respond to the comments on your blog, work, sleep, eat, and manage to have a few conversations with your loved ones?! When I worked night shift I had all the time in the world to write posts and read other blogs and comment. I was even able to knock out two posts in a day at times. With my new schedule sometimes I can write a post but that doesn't leave any time to read other blogs or respond to the comments on my blog. I know what Theo's answer would be, to quit blogging. And I do feel bad coming home after a day at work and telling him to give me
10 minutes to write a post but secretly in my head knowing it'll be more like an hour. Then I finish my post and I need to read other blogs. I gotta support my blogger friends! So not only am I wasting time we could be spending together writing a post, I'm also spending time reading blogs afterwards. He finally said to me yesterday "Ally this has got to stop. You spend way too much time on your phone reading blogs." He's exactly right. So other bloggers who are married and have families, when do you find the time to blog? I know everyone's schedules are different but I'm interested to know how you fit blogging into your day.
I truly love blogging and reading other blogs but when it's starting to take away precious time from my main man, then it's causing a problem. I never wanted blogging to become a hassle, and it isn't. I just don't have the time like I used to. I think I have a bit of OCD in me and really like to have 5 posts a week. I'm just going to have to get over that and realize quality over quantity matters more. As much as I would love it to be, blogging will never be my full time job. Since I won't be blogging as often, what kind of topics would you like to read from me? I'd rather spend my time writing out a thought provoking post rather than a simple one with pictures all over it just so I can say I blogged today.
After all, I started blogging as an escape from normal life. To talk about the things on my mind and to post about what I'm loving right now. Blogging has sense turned into my normal life, I just need to find the time to for it.