Today I'm co hosting with

Annie

and

Natalie

for the Thoughts on Thursday Link up! I love this link up because you can post about anything and everything that's on your mind and see what's going through other bloggers' minds as well. I hope you'll join us!!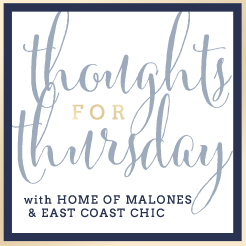 I love being married. Having a husband has it perks.
1. Always have someone to hang out with
So you don't feel like going out on a Friday night? No problemo, you've got a husband to stay in with you and order pizza. Want to check out that new restaurant or go see that new Ryan Reynolds movie? Who better to ask than the person who lives in your same house. You can even save money on gas by carpooling!
Husbands are great to take selfies with, they have extra long arms to get the best angle!
2. Helps keep house clean
Whether it's you cook and I'll clean or vice versa, there's always someone else to make sure your house is tidy. Maybe you won't get service with a smile while he washes your dirty wine glass(es) but who can complain, they're getting clean while you're catching up on Housewives.
I don't know what it is but Theo always tells me I look good. It's nice to know that after waiting only 2 hours for me to get ready, when I finally come downstairs and ask him if I look good he says "Yes you look fine, let's go!" He doesn't even have to look to me and he says I look good! The best part is when I ask him if I look fat in this dress he always says "NO!". I've trained him well ;)
I thank god my husband is good with money because I majorly lack that trait. Don't get me wrong I always pay my bills but girlfriend loves to shop, a little too much. Theo has finally taken over all our finances and it's like a weight is lifted off my shoulders. He's my own personal finance advisor and he doesn't even ask for commission!
He may complain that I spend too much time blogging but I know I'm really just doing him a favor
. It's always a nice surprise when I receive a gift from him and the only way he knew about it was because he saw it on the blog. It just goes to show blogging has made his life easier. I don't have to make lists anymore, just blog about it and it'll appear wrapped in a bow!
Yes please!
These were obviously funny reasons but underneath the silliness are true reasons why I love being married. Marriage is very hard, and the easiest part was planning the wedding. It's nice to be married to your best friend and have that person to share your life with.
Enough of the sappy stuff, now it's your turn: