Linking with Annie and Natalie for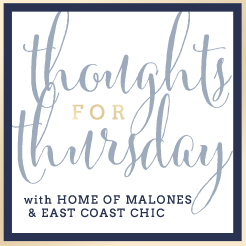 ~I'm getting my haircut today and I kind of want to do something different. I feel like I always go in their thinking that and then come out with the exact same thing. I really like Beth Behrs' hairstyle but as much as I love the way bangs look, I instantly regret them as soon as I walk out of the salon.
I also have no clue how to style my hair so it would never look half as good as hers. I'm just really ready for something new so who knows!
~I've been trying to drink a tablespoon or so of Apple Cider Vinegar everyday and I'm struggling. I should probably just take it as a shot rather than add it to water and drink it slowly. It's just so tart and sour but I'm trying and I even made an Apple Pie Elixer to see if that would help to get it down easier, honestly I think it was worse!
You can read all about ACV's benefits here. Mainly, it's great for weight control by suppressing your appetite and is supposed to give you energy. While I did notice a bit more energy after drinking it, which could of been a placebo effect, I didn't really notice a decrease in appetite. I'm going to keep attempting to drink it daily because it certainly doesn't hurt anything just doesn't taste the best!
~I really want to try a pair of Blank denim. They always have great reviews and their prices aren't bad at all. Most run around $80. I'm thinking about trying this pair that are on sale for $39 then additional 25% off. They're crop jeans and you'd think since I'm tall I wouldn't like crop jeans but I have a pair and they're actually one of my favorite jeans.
~So me and me alone, Theo's already said no, want to install backsplash in our kitchen. Every time I walk in my kitchen I always think there's something missing that would make it look complete and it's backsplash. I'm thinking something like this since we have black granite like this kitchen.
Update: As I'm typing this and showing Theo the picture, he said he does like it and would want to try to install it. Sometimes it just takes showing men visuals right ladies?!
Any one ever installed their own backsplash before? And tips or tricks?
~I don't know what my problem is this year but I haven't been in the Halloween mood at all. I usually watch a scary movie almost every night, we've watched maybe three. By now I've watched Hocus Pocus at least five times, I've watched it once. I just hope I don't get this way about Christmas. Christmas is MY holiday, yes I know it's everyone's, but I like to think I get a little more excited than the average Joe. That was until I met bloggers and realized I'm not the only Christmas freak out there. I love having Lifetime and ABC Family 25 days of Christmas on TV 24/7 and I'm that person blasting Christmas music on my radio starting November 1st. Let's be honest, October 1st would be perfect. Well if we're going there, why not have it playing all year?!
This explains Theo and my relationship perfectly